Dinchak Lyrics from RED is Latest Telugu Song sung by Saketh, Keerthana Sharma. This song is featuring Ram Pothineni, Malvika Sharma, Amritha Aiyer. The music of this new song is given by Mani Sharma while lyrics penned by Kasarla Shyam and video is directed by Tirumala Kishore.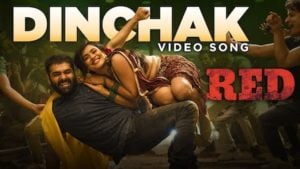 Song Details:
Song: Dinchak
Movie:
Red (Telugu Movie)
Singer: Saketh , Keerthana Sharma
Music: Mani Sharma
Featuring Artists: Ram Pothineni , Malvika Sharma , Amritha Aiyer
Label:
Lahari Music
Dinchak Lyrics
Padi'nu Dabbala Passenger Bandeke
Padakoṇḍu Gantalaku
Podha Mannadu Bombai Ke
Salati AC Bogilo Sopichaade Okatiki
Haan Cheppi Dhuppati Essi
Dhoorin Dammi Maapatiki
Koo Chuk Chuk Koothalu Thappa
Mothalu Leve Rathiriki
Engine Mottham Heatekhinchi
Jumpayinde Podhatiki
Hey Dinchak Dinchak Dinka
Aada Eeda Dhukake Jinka
Dinchak Dinchak Dinka
Maa Buchuki Raave Inka
Arey Dinchak Dinchak Dinka
Thaga Letesthani Lanka
Dinchak Dinchak Dinka
Thiga Lagithe Kadile Donka
Written by: Kasarla Shyam
Found Any Mistake in Lyrics?, Please Report In Contact Section with Correct Lyrics!
You may also like…