Meri Aashiqui Lyrics by Jubin Nautiyal is Latest Hindi song composed by Rochak Kohli and मेरी आशिकी Song lyrics are written by Rashmi Virag. This New video Song features Jubin Nautiyal, Ihana Dhillon.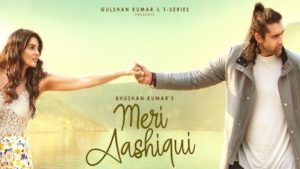 Song Details:
Song: Meri Aashiqui
Singer:
Jubin Nautiyal
Music:
Rochak Kohli
Featuring Artists: Jubin Nautiyal , Ihana Dhillon
Label:
T-Series
Meri Aashiqui Lyrics
मेरी आशिकी लिरिक्स
Umar Bhar Aashiq Dua Karta Raha
Sir Jhuka Ke Sazde Mein Jhookta Raha
Kaash Aisa Ho Ki Sun Le Woh Meri
Raat Din Bas Khaab Ek Bunta Raha
Qismaton Ko Kuch Aur Manzoor Tha
Ho Gaya Woh Sab Jo Socha Tak Na Tha
Aayega Ek Din Kabhi Woh Laut Ke
Ungliyon Pe Din Hi Woh Ginta Raha
Umar Bhar Aashiq Dua Karta Raha
Meri Aashiqui Pasand Aaye
Meri Aashiqui Pasand Aaye…
Meri Aashiqui Full Song Lyrics And Video Will Be Updated On 3 June 2020. Till That Enjoy The Teaser And Stay Tuned!
उम्र भर आशिक़ दुआ करता रहा
सिर झुका के सज़दे में झुकता रहा
काश ऐसा हो कि सुन ले वो मेरी
रात दिन बस ख़ाब एक बुनता रहा
किस्मतों को कुछ और मंजूर था
हो गया वो सब जो सोचा तक न था
आएगा एक दिन कभी वो लौट के
उँगलियों पे दिन ही वो गिनता रहा
उम्र भर आशिक़ दुआ करता रहा
मेरी आशिकी पसंद आये
मेरी आशिकी पसंद आये…
Found Any Mistake in Lyrics?, Please Report In Contact Section with Correct Lyrics!
You may also like…